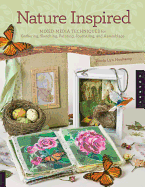 Title:
Nature Inspired : mixed media techniques for gathering, sketching, painting, journaling, and assemblage
Author:
Tracie Lyn Huskamp
Info:
112 p. - 2009
Finished:
14 August 2011
Acquired through:
amazon.com
Rating:
7 / 10
Notes:
If you love nature and want to incorporate it into your art, but don't know how, this book is a good way to start. It's not necessarily a book for beginners, but more for people who are already a little into mixed media and want to add the natural aspect to their work. I think at some points the book expects you to have a certain experience into working with art materials.
Huskamp gives good information on gathering natural elements and preserving them, but also on using photographs and drawings or turning photographs into drawings. She shows some fun and interesting techniques and the projects shown vary from single page pieces to journals to assemblage. She uses a lot of fabric in her work too. This is very much a Huskamp book, in that you have to like her work to like this book, or you should not get it. Some books show the works of other artists too, but this is not one of those.
The book is definitely worth while for nature loving artists and it's full of Huskamps beautiful art work, includig a gallery at the end. It's not the best mixed media book out there, but much better than some. This is not a book for those who want a general look into art making or mixed media, but I suppose the title already discloses that.
A nice book to add to your collection, but not an essential one. I liked it though.